Asphalt Paving Contractors
Ascrete Inc. has been providing Asphalt Paving services for over forty years. Asphalt is usually the material of choice because of its durability, cost-effectiveness, and strength. Asphalt also withstands heavier loads. When you have proper asphalt maintenance, your asphalt project will last for many years.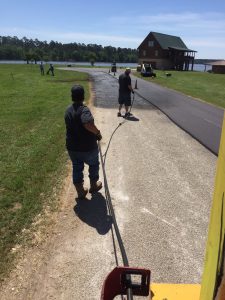 We provide a wide array of Asphalt services some of which include:
Overlay of existing driveways, parking lots, sidewalks, and roads.
New construction from the ground up.
Repair and patching, sub grade and base repair.
Asphalt cap repairs.
Asphalt speed bumps and valleys.
Asphalt maintenance.
We are a full service commercial asphalt contractor based out of Conroe, Texas. Servicing Baytown, Beaumont, Bryan, College Station, Conroe, Deer park, Galveston, Houston, Huntsville, Katy, Kingwood, Livingston, Magnolia, Montgomery, Pasadena, Spring, Sugarland, Richmond, Rosenberg, Tomball, The Woodlands, Waller, and Willis.
Whether you need your current parking lot or driveway resurfaced, or you need pavement laid for a new construction project, we can provide all of the services that you may require to get the job completed. We at Ascrete, Inc.,  know how to make your paving projects look great while providing lasting durability. Our trained professionals will fix all of your pavement problems.
We pride ourselves on providing quality service. If you would like to see firsthand the quality of our work, give us a call at 281-931-1622.